Pleasanton Boot Camp Trainer Reveals Rapid Fat Loss Program
With all of the fitness trainers out there, there is one Pleasanton personal trainer that stands out by helping people discover their best physiques the right way.
Hi, I'm Mark Rogers, and if you are tired of talking to and dealing with personal trainers that cannot relate to you, I would like to share a story that might seem all too familiar. Although I am considered one of the best
Tri-Valley personal trainers
, and Pleasanton Boot Camp trainers it took a lot of hard work and mistakes to get there. As I'm sure you can understand, getting in shape was not always that easy for me.
When I was a teenager, I was small and weak. Being small, weak and underweight only made the awkward teenage years worse, and I struggled to either gain weight
anyway
that I could. You might be saying, but you were skinny, well let me tell you, being skinny and weak trying to put on good weight is just as hard and stressful as the other way around, especially as a teenager. Those were some of the toughest days of my life, but I am thankful for them now because they allowed me to understand
exactly
what it's like to have a weight problem, and more importantly, how difficult it can seem to solve it.
Facing one disappointment after another, I tried everything, including
shakes and pills
, working out for
hours at a time
, following workout videos, and many other things that just did
not
work. That's when I finally started learning from a personal trainer/fitness expert who had reliable, real world nutrition and workout information and strategies that worked.
As I learned more about physical fitness, I began to realize that it is not about how many hours you spend working out, it's about doing a
few key exercises
correctly. Once I began to feel stronger and get in better shape, it opened my eyes to an entirely
new
way of living. Over time, I was transformed into a
lean, solid body
with more confidence and energy than
ever
before.
So, why am I telling you about my failures and successes? Because I have been helping
hundreds of clients
in Pleasanton, California experience that same
great feeling
that comes with achieving fitness goals. There is a
big difference
in personal trainers, and for me, it's the way I can relate to people because I have been there. Now I want to show you with my bootcamps in Pleasanton.
If it's done right, personal training can change your life in
every way
. But it cannot be a temporary thing in my opinion. That's why one of my goals is to give clients
all of the knowledge and skills
they need to realize their dream body and
maintain it
for the rest of their lives. This is done by using a combination of
customized nutrition plans
and
exercises that work
.
My Pleasanton boot camp is the #1 body transformation and rapid fat loss program.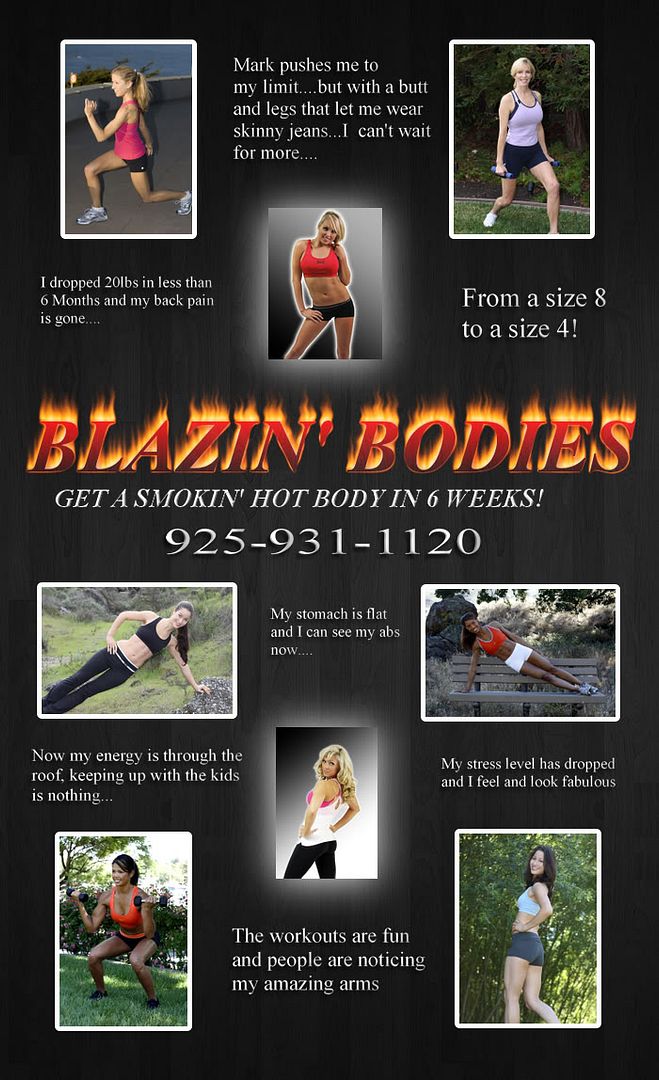 The one thing that I have learned is that
everybody can change their body, whether they want to lose weight, gain muscle or just get more endurance and have better health
. No matter what your genetics are, no matter what you have tried before, and no matter what your fitness level is, you
can
do it. And to prove it, I offer a
solid guarantee
with all of my boot camps, which begins with a
free consultation
.
Due to the massive success of the program,
Blazin' Bodies Boot Camp
is only available on a
limited basis
in Pleasanton, California and other
Tri-Valley locations
, so please contact Mark now at
(925) 931-1120
to make sure that you reserve your
free consultation
. Or, you can
enter to win a Free Personal Training Session
to the right and I'll keep you up-to-date on the latest fitness, nutrition and fat loss info. These are the most helpful and factual fitness, nutrition, and wellness tips available anywhere.
Pleasanton Personal Trainer
Dublin Personal Trainer
Livermore Personal Training
Tri-Valley Boot Camp
Mark Rogers Fitness Personal Training is serving Pleasanton, CA and surrounding areas, Including 94566, 94588